Bairnsdale Electrics
Establishment at 259 Main Street, Bairnsdale, VIC 3875, Australia. Here you will find detailed information about Bairnsdale Electrics: address, phone, fax, opening hours, customer reviews, photos, directions and more.
Rating
5 /5
Based on 1 reviews
Photos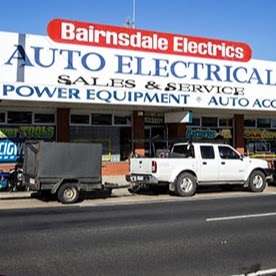 Reviews of Bairnsdale Electrics
R.U.N Sports Partner Finder Added June 04, 2018

★ ★ ★ ★ ★

Product was great. Quick express delivery. I've installed the product in the boat and works a treat. Price was lower than any other places ive looked at.
Questions & Answers
1. What is the phone number for Bairnsdale Electrics
The phone number for Bairnsdale Electrics is +61 3 5152 3201.
2. Where is Bairnsdale Electrics located?
Bairnsdale Electrics is located at 259 Main Street Bairnsdale, VIC 3875.
3. Is there a primary contact for Bairnsdale Electrics
You can contact Bairnsdale Electrics by phone using number +61 3 5152 3201.
4. What is the web address (URL) for Bairnsdale Electrics
The website for Bairnsdale Electrics is autoelec.com.au.
About autoelec.com.au
AutoelecAU Australia's largest online 4x4 offroad accessories camping outdoors outlet
Autoelec offers you high quality offroad 4x4 camping accessories from leading manufactures of portable fridges driving lights uhf radios antennas
4WD accessories online, Off Road Accessories, Camping equipment, Driving Lights Lightforce, UHF radios GME Oricom Uniden, Antennas, Anderson power plugs, weco dometic fridges, solar panels, dual battery systems.
Share this page
Additional actions
Today's weather in Bairnsdale VIC
13:00
23 ℃ 1005 hPa 49 % 6 m/s 16:00
22 ℃ 1006 hPa 44 % 6 m/s 19:00
16 ℃ 1010 hPa 69 % 5 m/s 22:00
13 ℃ 1011 hPa 93 % 5 m/s
Tomorrow's weather in Bairnsdale VIC
01:00
13 ℃ 1011 hPa 92 % 4 m/s 04:00
12 ℃ 1011 hPa 90 % 3 m/s 07:00
13 ℃ 1012 hPa 87 % 3 m/s 10:00
16 ℃ 1011 hPa 63 % 3 m/s 13:00
17 ℃ 1010 hPa 54 % 5 m/s 16:00
16 ℃ 1008 hPa 60 % 4 m/s 19:00
13 ℃ 1009 hPa 74 % 3 m/s 22:00
10 ℃ 1009 hPa 91 % 1 m/s